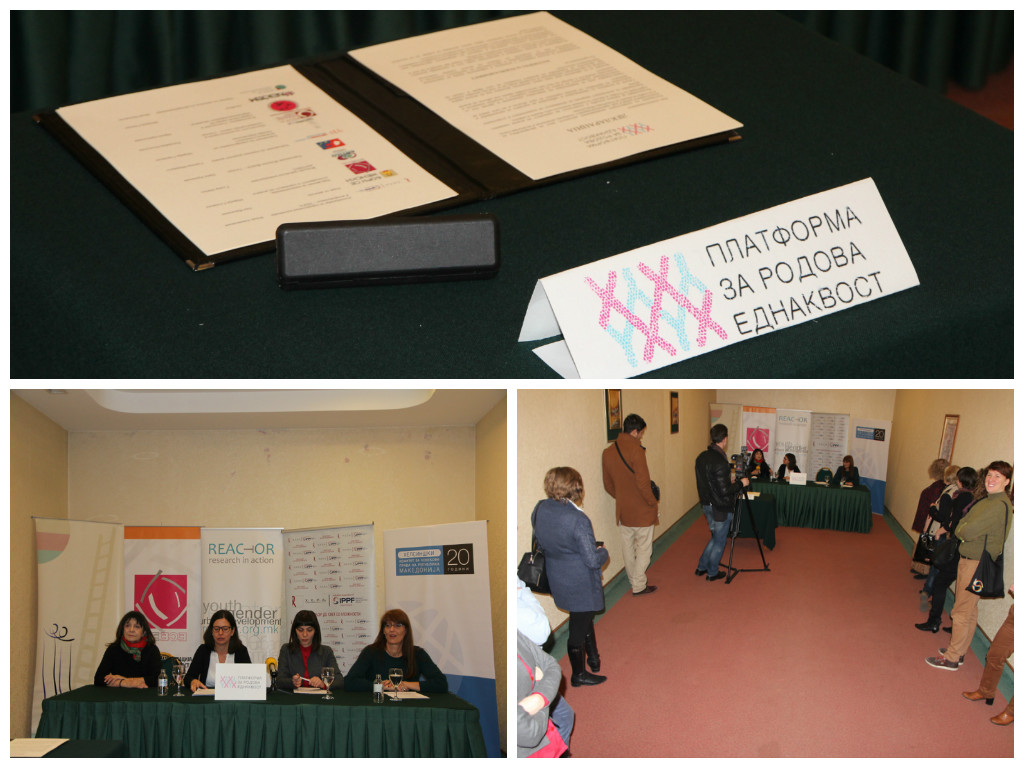 The Platform for gender equality, today held a press conference where 21 Association encouraged by the marginalized position of women in the country identified the need for concerted action in order to promote gender equality in the country and publicly signed the Declaration on Gender Equality, which is connected to the platform.
Official addressed at the press conference had Neda Korunovska, President of Reactor, Christina Plekjikj Bekjarova, Project Coordinator at HERA and Mary Savovska, Action Zdruzenska, who emphasized the need to expand and accelerate efforts to promote and embed the principle of gender equality in all areas and at all levels in the country. Speakers added that reforms to establish gender equality evolve very slowly and that this rate will not achieve change for a long time.
The association comes in response to the ubiquitous patriarchal values, the gap in the distribution of social goods and power, marginalized social, economic and political status and position of women in the country. In the past few years equal position of women in society has been called into question with:
• Laws and regulations for termination of pregnancy
• Media campaigns against abortion
• Law on prevention and protection from domestic violence
• Legislative changes to pay health insurance for copyright and contracts work
The Platform for gender equality is independent and informal network of Macedonian NGOs, representatives of civil society and individuals that are committed to building an equal society and promoting gender equality.
The Organisation which signed the Declaration on Gender Equality, and became part of the Platform for gender equality through its action will require:
- coordinated, coherent and implemented legislation and policies aimed at gender equality.
- Provided sufficient and appropriately allocated financial and other resources for the implementation of laws and policies to ensure gender equality.
- functional, effective and efficient gender machinery at national and local level.
- System for advocating gender equality with the central and local levels.
- Raising awareness about existing stigmatization and marginalization of women in public discourse.
- Generated expertise aimed at strengthening the internal and external capacity to promote gender equality.
The platform will operate on six fields: economy, education, reproductive rights and health, gender-based violence, access to services after survived violence, social policy and participation of women in politics. We are confident that our joint action will contribute to the strengthening of our individual efforts. Just live and a strong civil society contributes to a more open, participatory and thus more dynamic democratic society.
More information on the web platform has http://rodovaplatforma.mk/