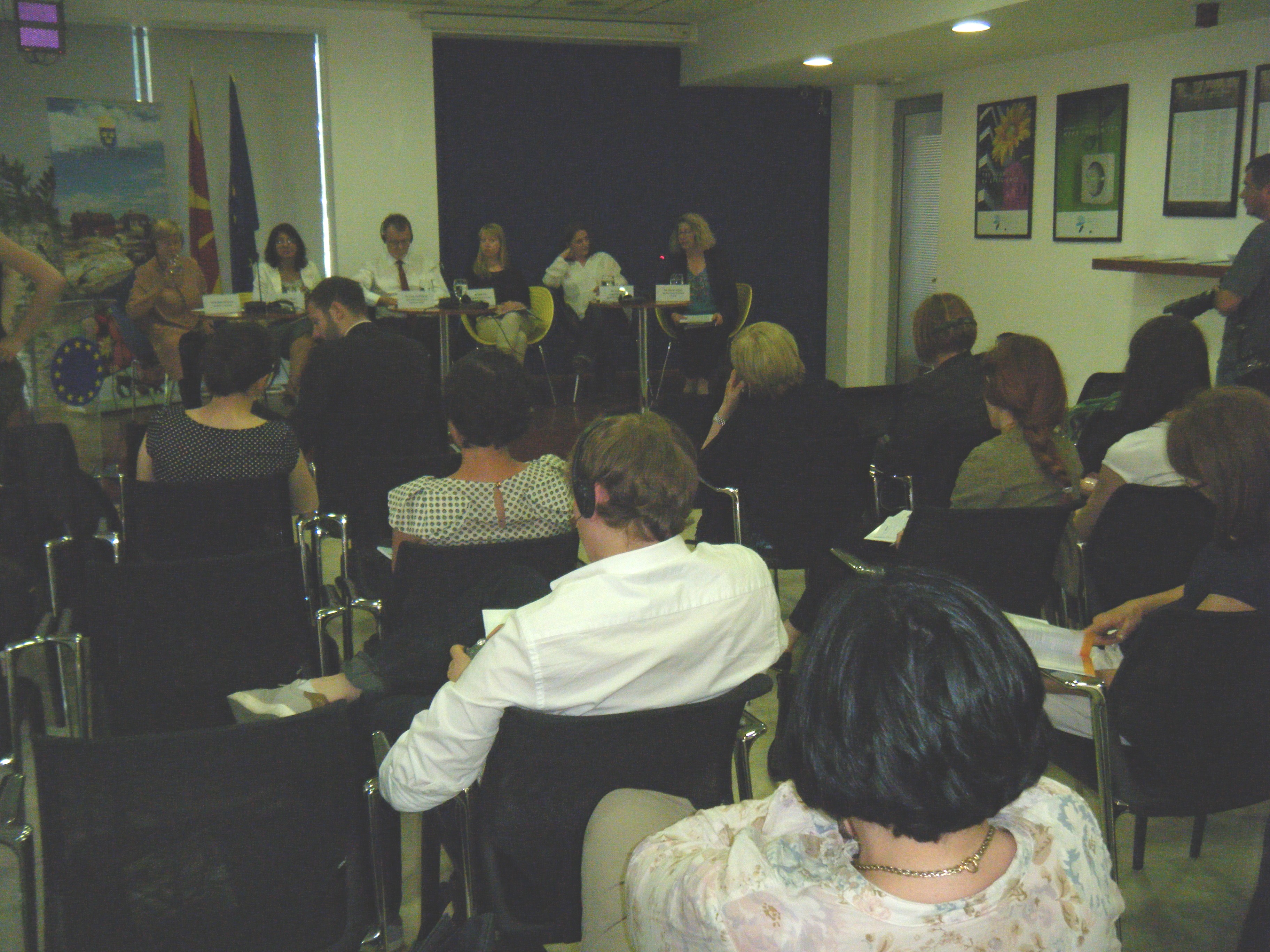 On 28. 05. 2014 at the EU Info Centre in Skopje, was organized a panel discussion on "Shared Parental Leave as means for Increased Gender Equality ". The purpose of this discussion was to share and compare experiences, concepts and policies between Macedonia and Sweden in the field of sharing parental leave between both parents and the development of the practice of gender equality in these two countries.
Lecturer of the panel was ms Barbro Hedvall who is a prominent journalist and former editorial writer at Sweden's biggest daily newspaper Dagens Nyheter with a long-term experience in writing about Swedish gender equality. Ms. Barbra Hedval explained the gender and institutional framework of Sweden regarding the regulation of the parental leave and emphasized the positive trend of equally sharing of this leave among both parents in recent years in Sweden. Barbra also talked about the practice of gender equality in Sweden, as a country with a high coefficient of gender equality compared to other countries in the world, and the challenges facing the further advancement of this equality.
Personal addressing at the panel, had experts from the field, from Macedonia and Sweden: Ms Gjuner Nebiu president of Women Civic Initiative Antiko Macedonia, Mr Jörgen Gyllenblad, Swedish Social Insurance Agency, Ms Mirdita Saliu, Ministry of Labor and Social policy and Ms Dushica Dimitrievska, Euro Balkan University. After the presentations from the panelists, among the participants was developed a general debate on the relevant topic and was discussed about the advantages and disadvantages of the legal and institutional framework regarding the parental leave in both countries, the reasons why for fathers use parental leave much less than the mothers and the ways to address this challenge, state the advantages of the shared parental experience from economic and social aspects and was discussed on other issues that affect this area.
The panel discussion was organized by the Embassy of Sweden with the support of EU Info Centre, Women Civic Initiative ANTIKO, National Democratic Institute (NDI) Macedonia and the Euro Balkan University.