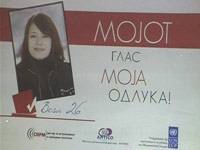 My Voice – My Decision is a project by which the campaign against family and proxy voting is starting out, carried out by the Centre for Research and Policy Making and Women's Civic Initiative Antico.
In the first, second and sixth electoral unit this campaign is being carrying out, those are areas with the majority of Albanians and Roma population, where this problem is the most present.
"It is in regard to the existing patriarchal mentality, the head of the family to determine everybody in the family to vote the political party he will vote for." - stated Gjuner Nebiu, President of the WCI Antico.
"Besides the family, as factors having influence to this phenomenon are the state institutions, State Electoral Commission, electoral boards, and mostly, the political parties," stated Sanja Kostovska, the project manager.
"For the political parties themselves, very often family and proxy voting turns out to be in their favour. Unfortunately, the political parties have so far not shown readiness to hamper this problem, and therefore obviously the political parties care only to ensure their places in the elections, than the elections to pass correctly" – said Sanja Kostovska, researcher in CRPM.
Antico and Center for Research and Policy Making, are devising an analysis for clearer approach towards this issue. The results are going to be presented on 9 February in Skopje. The campaign will last until the start of the pre-electoral activities.