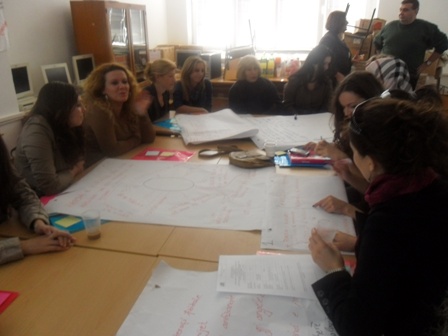 On 2nd and 3rd of November in Tearce municipality within the project "Through education and strengthening towards social inclusion and active citizenship – III" were organized and held workshops with aim of strengthening the capacities of women for active participation in the community, advocacy and networking. At the workshop were present 18 women from villages Neproshteno, Slatino, Tearce, Prshovce, Glogji, Dobroshte, Nerashte and Odri.
The facilitator, Gjuner Nebiu, through presentations and practical work in groups have showed to the participants of the workshops how the networking looks and what are the advantages if women organized seek solution for their prioritized problems. The discussions have contributed women to exchange experiences and positive examples and to talk about the possibilities for practical implementation of the knowledge acquired.
These workshops have increased the knowledge and the capacities of women regarding the topics covered so they can create a favorable environment for exchanging experiences and sustainable cooperation of the local actors and women from rural areas belonging to minority communities in addressing their needs, local development planning and decision making processes and gender budgeting.