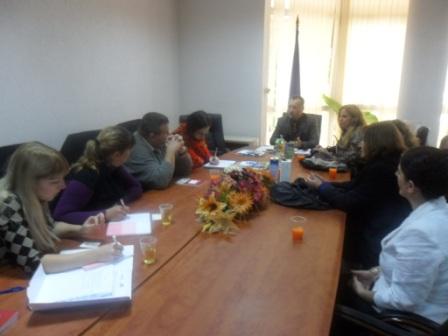 Women from Tearce municipality held the first working meeting with the representatives of the local government envisaged within the project "Through education and strengthening towards social inclusion and active citizenship – III".
The meeting with the Mayor from Tearce municipality, Isen Asani, was held on 26th of October 2011 in the municipality offices. At this meeting attended women who are included in the project activities, local team, representatives from Antiko and UN Women, as well as members from the Commission for equal opportunities.
The local team and the representatives from Antiko have introduced to the Mayor the goals of the project, the activities that were realized so far and the ones that follow, as well as with the expectations of women from the local government in terms of support to overcome the existing problems of women.
At the meeting were also discussed the earlier and ongoing initiatives such as the construction of the kindergarten in Tearce, where the Mayor addressed to the process of implementation and the next steps that the municipality will take in order to build the facility that was mapped by the women as a priority need.
The representatives from the Commission for equal possibilities shortly presented the Local action plan for gender equality and they have expressed willingness for further collaboration with the informal group of women from the municipality in order to focus on activities which will improve women's status and will contribute towards improving the quality of their life in the community.
The conclusion that have emerged from the meeting express the importance of the collaboration between all stakeholders, mutual information and the need for more frequent meetings because of the possibilities for taking joint actions.