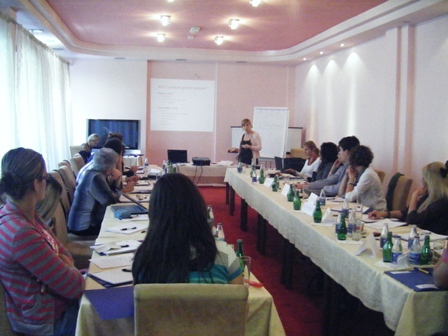 During the period of
02-05.10.2011
in h. Terme in Sarajevo – Bosnia and Herzegovina, a regional workshop took place on topics about monitoring public policies and budgets, preparation of gender oriented budgets and proper use of monitoring tools. The workshop was organized for NGO's from Macedonia and BIH. Total of 11 participants per country were part of this workshop. WCI ANTIKO also sent their representative to follow the presentations on the workshop.
The workshop was separated in several sessions: three days with three sessions per day, held by lecturers from Macedonia, Serbia and Bosnia and Herzegovina.
The lectures stated with introduction to the concept of the workshop and the topics that will be elaborated, also marking the expectations of the participants for this workshop. Topics that were elaborated were about gender equality, why and how it is important for the socio-economical development of a country, what is gender responsive budgeting and how the planning and preparation of a budget is done, and what tools are used for gender budgeting and monitoring of budgets.
Despite the theoretical presentation of the meaning of the programs, policies and projects (governmental and nongovernmental), what is the meaning of gender responsive budgeting, and how the process of budgeting is maintained, accompany part was the practical team work through examples from R. Macedonia and Bosnia and Herzegovina.
The training contributed towards improvement and strengthening of the capacities of the members of ANTIKO's executive office, and also of the whole network through follow-up trainings and workshops.