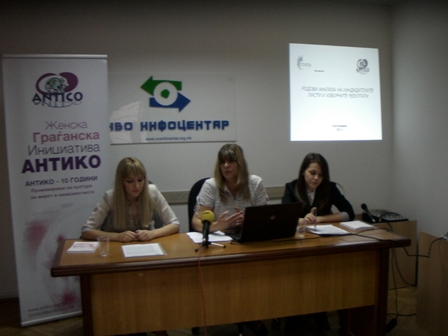 The results from the gender analysis of the candidate lists for the Early parliamentarian elections 2011 and the analysis of the electoral results, showed that there is no significant progress when it comes to the representation of women on candidate lists and elected women in the Parliament in regards to last elections.
The conclusion from the analysis is not far from the expected. The political parties, in general, respect the provisions from the Electoral code …"…for every three places on the list at least one belongs to the less represented gender", and as a rule the same applied to these election, the winning positions were reserved for the male candidates, and the female candidates were positioned on the 3, 6, 9, 12 place, which mean little or no chances of winning. The percentage of women on the candidate lists is from 30% to maximum 60% (only one candidate list). This distribution of women on the candidate lists is also reflecting on the electoral results (30,9% - minimum quota fulfillment) which means that the participation of women in the Parliament is still a result of the institutional mechanisms, or the legislative quota of 30%, not of the political will and persuading of the political subjects.
The condition is also unsatisfactory in the governmental structures, where there is low percentage of women's representation on high positions in the Ministries. In total 19 Ministries in RM Government only 2 Ministers are women (10,5 %); from 4 Vice President of the Government only 1 is woman (25%); from 15 Ministries Vice Ministers only 3 are women (20%)......
WCI ANTIKO follows and documents the condition in regards to political representation of women and conducted the analysis for obtaining relevant data that will be basis for further identification of priorities and planning of activities and further steps of all concerned parties for resolution of this problem and the need in our society, for elimination of gender discrimination, providing same rights, possibilities and responsibilities for both genders, and respect of the Constitution and laws of R. Macedonia.
The conclusion is that no serious actions are taken (by the civil sector, political parties, the mechanisms for gender equality and other concerned parties) and the results so far are put in question, moreover, there is possibility for a step back – as the condition with the election of majors is in the municipalities (from 3 women in the last elections, currently there is not one women on this function).
For reference, the complete analysis and the results can be found on ANTIKO's web page under "PUBLICATIONS"