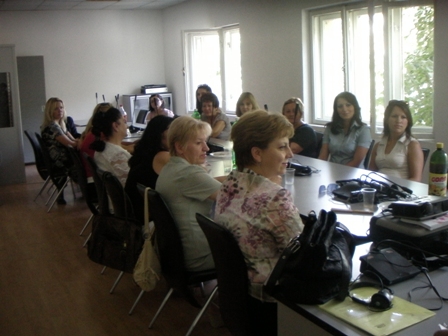 In order to increase the active participation of women within the political parties for the creation of gender sensitive public policies and to give their contribution for the promotion and implementation of the legislature on equal possibilities, WCI Antiko in collaboration with the Association of Albanian woman Kichevo (member of Antiko's network) on 25.08.2011organized forum on the topic of "Increasing of the role and influence of women within the party structures".
In the interactive debate the participants from other political parties were interested in and debated on many topics, as the number of female participation in political parties, activities, role and positions that women have in the party structures etc. The political activity of women in the parties was discussed, if the woman is actively included in the decision making structures. The most frequent obstacles women face within the party mentioned the following factors: low representation of women on decision making positions within the parties and with that the inability to influence factors for implementation of changes in the way and content of the current politics. In the politics still men are dominating and the male model of behavior and running the politics.
Also the participants of the forum discussed on the topic how active are women forums within the political parties, where different answers were given by the participants from different parties. In some parties the forums are active but they do not have any influence in the decision making structures of the parties, while in the bigger part of the parties women forums are not active at all. As a result of the constructive discussion and the practical examples by the participants some key recommendations for the segments that need to be addressed, as following:
1. Women forums in the political parties in Kichevo need to find ways and forms that will allow them to be more active. The activities need to be organized during the whole year, not only before elections.
2. Exchange of experience is proven tool that allows quick and effective achievement of results, no they should not run away from sharing of experience no matter of political party belonging, because women are all the same and have the same platform for action that needs to serve as uniting basis for all women in all political parties.
3. The need for maximal collaboration with nongovernmental organizations. They have great meaning and sometimes limited financial resources. All these factors can be placed in function of more effective strengthening of the role of women within the party structures and active participation in the creation and implementation of gender sensitive public policies.