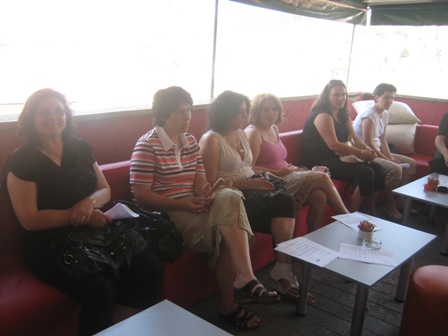 On 15.07.2011 in Krushevo a forum was held on the topic "Increasing of the role and influence of women in the interparty structures". Participants of the forum were 30 women from different political parties, and representatives from the units of local self-government from Krushevo. The event had the purpose to empower the women from the political parties to take active participation in the creation of gender sensitive politics within their parties. Having in mind that the political subjects have the key role in these processes, of great importance is to increase the influence of women on managerial positions in political parties and with that the influence of women in the processes for lobbying and representation of the rights and interests of women on local and national level.
The participants of the forum debated on current open issues:
-
How active is woman in politics and inside the party
-
Is women's voice relevant, or are their recommendations and suggestions accepted
-
How many women have the possibility to advance in the political career
The participants had the opportunity to exchange personal experiences, and through presentation of personal positive examples to encourage the other participants to be more active in the commitment for increasing of the role of women on managerial positions within political parties and the bigger influence of the processes of creation and preparing gender sensitive politics.
As a conclusion was the request for further continuous education of women and strengthening of their capacities for active political participation, and also education of their co-workers who significantly posses prejudice and stereotypes in regards to these issues. In general, everybody agreed that is should continue towards reviewing and harmonizing of the legislative according to the Law on equal possibilities and international documents, but also to continually work on their practical implementation.