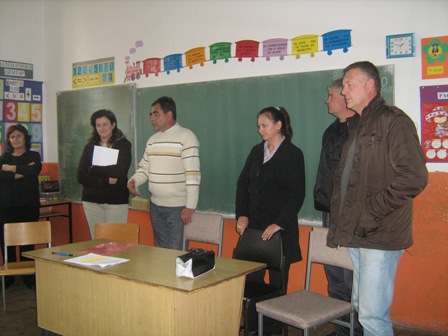 On 12.10.2010 in Krushevo municipality a public debate on the topic of "Creation of local policies for promotion of the position of the woman" was held. At this debate 15 participants took place, members of relevant structures and concerned parties, which are directly responsible for solving existing problems in the area of gender equality and the needs of specific categories of marginalized persons in the municipality. The debate was facilitated by Ms. Elena Grozdanova, State counselor from the Sector for equal possibilities within the Ministry of labor and social politics.
The facilitator, in her expose, mentioned the most significant aspects of the Law on equal possibilities for men and women, implementation of strategic activities from the National plan of action for gender equality (2007-2012), protection and prevention from every form of violence and discrimination.
The public debate triggered big interest with the participants and brought to exchange of information and opinions, views on the current problems that women face, and the creation of future policies that will be directed towards improvement of the woman on local level.
The discussion from the debate made it possible to identify the root of problems from a gender perspective. Few specific problems were listed, which all the citizen of Krushevo municipality are faced with – illegal consuming of alcohol by male and female minors, not reporting of domestic violence because of shame, judgment and lack of promptness from the institutions, and the problem of lack of health institutions – especially the ones about the reproductive health of women.
As positive example from the implementation of many activities by Antiko in the communities, was the signed Memorandum for cooperation between Antiko and the mayor of Krushevo municipality.
The mayor this year organized one action providing free of charge organized transportation of women from the rural areas, for the realization of preventive gynecological exams of the reproductive organs for early detection of cancer diseases, and to increase the culture – habits for preventive treatment and selection of personal gynecologist.