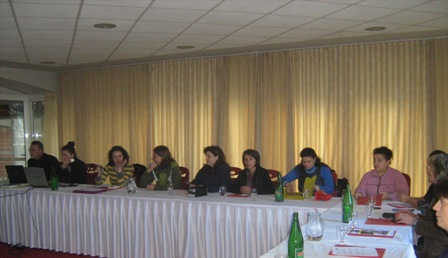 Within the program "Strengthening of the capacities of women's NGOs" of WCI Antiko, a seminar "Models of research and preparation of analysis" was realized, for the purpose of strengthening of the knowledge and skills of the members of WCI Antiko's network. The training was held during the period of 08-11.10.2010 in hotel Belvedere – Ohrid. Trainer was Mr. Slave Mladenovski, sociologist and expert with long experience in this area, from the "Institute 4R", and trainees were 20 members from the local organizations – members of Antiko, the personnel from the executive office of Antiko, members from the Children Theatre Center and a CIRa representative.
This activity contributed for strengthening the capacities of Antiko's network, and of its 18 individual members – representatives from local organizations from the NGO network. Through interactive working, the trainer managed to bring closer the subject with a presentation of numerous practical examples and personal experiences. The practical work was through 4 groups, and the participants had the opportunity to implement the acquired knowledge in practice and once more to examine the possible flaws in their practice so far in regards to the preparation and implementation of researches.
A part of these acquired knowledge, experiences and skills from this training will be used by the Antiko team for the realization of its field activities that are planned as a follow-up activity of the training, mainly for the research "Gender analysis of the programs of the political parties: Eight years later, is there a progress?".