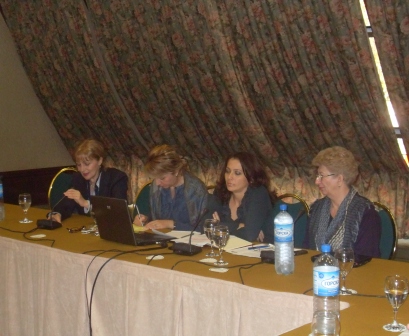 On 10.11.2010 in Skopje, a public debate was held on which part took representatives from: the Ministry of Labor and social policy, the coordinator for equal possibilities, president of the parliamentary commission for equal possibilities Liljana Popovska, representatives from the Ministry of External Affairs, representatives from the Ministry of Health, counselors from the municipalities in the city of Skopje, coordinators of the commissions for equal possibilities from the municipalities Centar, Karposh, Kisela Voda, Gjorce Petrov, members of the council of the city of Skopje, non-governmental organizations, representatives from political parties and others. Part of this debate were 44 participants. It is important to mention that as coordinators at this debate, initiated and conducted by ANTIKO, were the members of the gender commissions from the abovementioned municipalities, who supported the debate and showed openness for continuance of the cooperation with other concrete activities during 2011.
Introduction to and moderator of the debate was Ms. Gjuner Nebiu – president of Antiko, who gave a short overview of the goals of organizing events of this kind. Presentations were held also by Ms. Elena Grozdanova from the Sector for equal possibilities within the Ministry of Labor and social politics – Legislative-legal framework for gender equality in Republic of Macedonia.
Ms. Neda Maleska, expert on gender issues and representative of governmental institution has a presentation on the topic of "Gender aspects in the creation and following of public policies" - with special emphasis towards gender budgeting.
The representatives from the municipal commissions on equal possibilities and the coordinators talked about the area of their work, the degree of implementation of the local action plans and about the problems they face in practice. The problems that women are frequently facing were pointed by the disputants, as the lack of health care and preventive exams, violation of basic human rights at the work place, the small number of women on managerial positions even in institutions where the predominant number of workers are women, the unsatisfactory status of women in the rural areas, the problems with the handling and implementation of measures for protection in case of domestic violence (lack of competent people working during weekends, holidays or at night, lack of vehicles and similar). In general, all the participants agreed on the need for the update and change of the Law on equal possibilities and it's more efficient implementation in practice.
Benefit from the debate was the provided space for interaction and mutual dialogue, exchange of information between the local and national government and of the local non-governmental organizations and other relevant parties, all together to map the problems, the needs and challenges. Also, it provided opening of new alternative channels for communication, which will result in mutual action for solving existing problems.