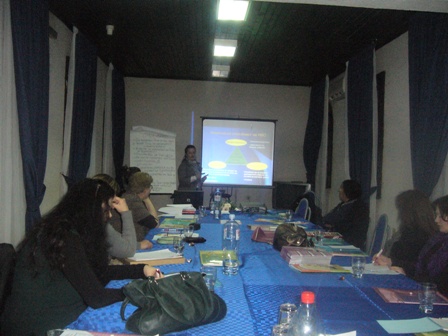 According to the needs and priorities of the members of WCI Antiko, it was concluded that a priority is to develop a plan for financial sustainability of Antiko, which will be compatible with the Strategic plan of the organization. For that matter, in Skopje, from 10-12.12.2010, the seminar "Creating of plan for sustainability" was held. Participants were representatives from Antiko's structure, who are meanwhile on managing positions in local organizations within Antiko's network (total of 21 participant), and the team from the executive office in Skopje.
The practical work of the sessions was in 4 working groups following the points in the Guide on Creation of Strategy for financial sustainability. The guide had listed the steps for development of the Strategy and the forms that can be used by the organizations – receivers of grant from the Program Civica Mobilitas, for the construction of their focused and strategic approach for sustainability and development and mobilizing of additional resources for realization of their mission.
Additional activity, which will be in consultation with the trainers Katerina Spasovska and Ana Dimitrova - (CIRa), is to prepare a real and constructional plan for financial sustainability of Antiko, which will be practically implemented for the needs of the organization.
The members who are on managerial positions in the local organizations of Antiko's network (21 participants), through the participation in the seminar "Creating of plan for sustainability", strengthened their skills and knowledge for creation of plan for financial sustainability, or the tools and steps for development of the plan that in future can be used by their organizations.
The participants of the seminar were introduced with the possible ways of collecting resources, or providing financial sustainability of the organizations. The seminar was especially useful because the participants practically implemented their theoretical knowledge during the exercises and afterwards created the plan. Also, at the seminar, it was discussed which parts from the Strategic plan should be amended and corrected and the further development of the financial plan.
The plan for sustainability will further develop, in consultation with the trainers of the seminar, and it is expected for its realization in the first half of 2011.