Purposes, activities, results, influence ...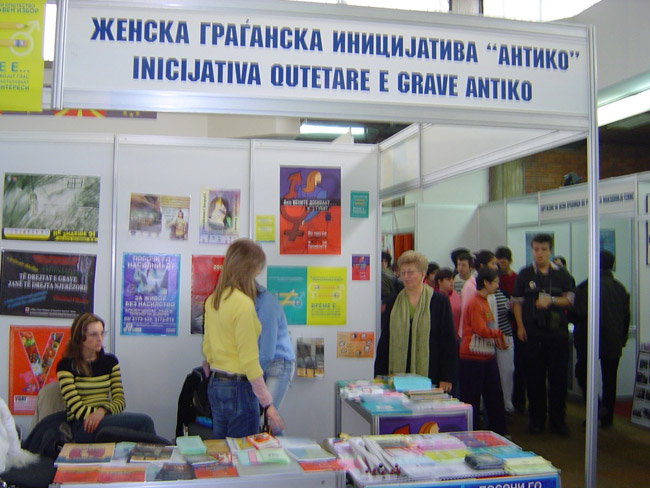 Programme "Women and society" provides a response to the impact of the patriarchal mentality and imposing of traditional values and stereotypes that repress women on the margins of the social processes.
Purposes:


The Antico's initiatives within this programme are directed towards creating conditions and opportunities for equal participation of women in public and political life, as well as all other spheres of the social life.
Influence:
Increasing of the awareness among women and youth for:
Women's issues, gender relations, women's/human rights, discrimination on the grounds of gender
Strengthening of women's identity, power and self-confidence, for undertaking individual and group initiatives – actions for creating changes through public and socio-political engagement in the community.
Promotion and protection of women's human rights


Programme "Women and Society" is directed towards improvement of the legislative framework through impact for making institutions sensitive to introducing and practicing institutional mechanisms for attaining gender equality – monitoring of the process of their implementation and giving support for improvement and effective use in practise.
The main goal is giving contribution to foundation of a solid base of equal rights, opportunities, and responsibilities for women and men.

Achieving sustainable development where the person - the citizen is in the focus of interest.
Activities:


Surveys, gender analysis, seminars, trainings of trainers, conferences, interactive multiethnic workshops, round tables, panels, debates, media presentations, press conferences, printed materials (publications, leaflets, brochures, posters), campaigns, public advocating, support for networking, arising and giving support to development of the public activism and peace activism, civic initiatives for important issues of gender equality, peace building, fostering interethnic relations, civil society at local, national and international levels.

The programme is being implemented by conducting long-term and continuous projects and initiatives, at the same time in 10 multiethnic local communities in the Republic of Macedonia, and certain initiatives and campaigns are being carried out throughout the whole territory of Macedonia.
Target groups:
Women and youth from different ethnic backgrounds, professions, social statuses, representatives from educational and health institutions, civic organizations, political parties, trade unions, women journalists, local self-government, women candidates for mayors, women members of the parliament, as well as other representatives from relevant institutions and structures from urban and rural local communities of the Republic of Macedonia.